MineCoin (Symbol: XMINE)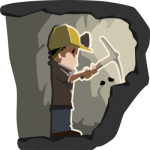 This AltCoin disappeared from the market a few months after its initial launch.  However, with renewed interest and a handover to a new developer, this coin has an opportunity to enjoy a new life.
MineCoin Original Announcement Post on BitCoinTalk.org
There are no immediate changes to the original coin specifications.
Symbol: XMINE




Algo: Scrypt - Proof of Work




Total Supply: 84 Million coins




Block Rewards: 100 XMINE




Halving: 840000 blocks




Block Time: 30 seconds




RPC Port: 42512




P2P Port: 42511

 
Block Explorer: Block Explorer
Mining Pool: XMINE Pool

There will be a maintenance release of the wallet coming shortly to update internal code to the new services.
With a new software project under development by MidnightMiner.net is centered on the monitoring and operational tasks of crypto-mining, this coin will be a great match to utilize as the crypto-currency for the project.  A soon to be released technology preview will provide more details on the mining management platform.
Follow us to keep up to date on the project developments.
MineCoin is currently traded on the YObit Exchange: